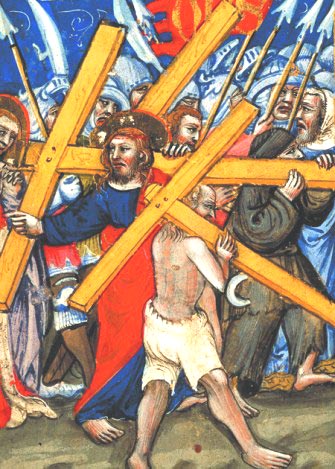 M.S. Vat. Lat. 2639 - Miniated by Nicola da Bologna (1370)
Vatican Apostolic Library
EIGHTH STATION
Jesus is helped by the Cyrenean to carry his cross

V/. Adoramus te, Christe, et benedicimus tibi.
R/. Quia per sanctam crucem tuam redemisti mundum.
From the Gospel according to Luke. 23:26
And as they led him away, they seized one Simon of Cyrene, who was coming in from the country, and laid on him the cross, to carry it behind Jesus.
MEDITATION
He was returning from the countryside, perhaps after a few hours of work. Awaiting him at home were the preparations for the holy day: sunset, in fact, would mark the beginning of the Sabbath, as the first stars began to shine in the evening sky. His name was Simon; he was a Jew, a native of Cyrene, a city on the Libyan strand which was home to a large community of the Jewish Diaspora[23]. A curt order by the Roman soldiers escorting Jesus stops him in his tracks and forces him to take a turn at carrying the cross of that half-dead convict.
Simon was a chance passerby; he did not know how extraordinary that encounter was to be. As someone once wrote[24], "how many men over the centuries would have wanted to be there, in his place, to have been passing by just at that moment. But it was too late; he was the one who had passed by and over the centuries he would never have yielded his place to others." Here we see the mystery of the unexpected encounter with God which happens in so many lives. Paul, the Apostle, had been intercepted, seized and "overcome"[25] by Christ on the way to Damascus. And this led him to ponder anew those astonishing words of God: "I have been found by those who did not seek me; I have shown myself to those who did not ask for me"[26].
* * *
God lies in waiting along the paths of our daily life. At times he knocks on our door and asks to sit at our table to eat with us[27]. Even a chance encounter, like that of Simon of Cyrene, can become a gift of conversion. Indeed, the Evangelist Mark will name of the sons of that man, Alexander and Rufus, as fellow Christians[28]. The Cyrenean is thus the emblem of the mysterious embrace of divine grace and human effort. In the end, the Evangelist paints him as the disciple who "takes up the cross behind Jesus" and follows in his footsteps [29].
His gesture, carried out under constraint, becomes a symbol for every act of solidarity with the suffering, the oppressed, the weary. The Cyreanean thus represents the innumerable host of generous persons, missionaries, Samaritans who do not "pass by on the other side" of the street [30], but bend low to assist the suffering, to lift them up and to give them support. Over Simon's head and shoulders, bent beneath the weight of the cross, echo the words of Saint Paul: "Bear one another's burdens, and so fulfil the law of Christ"[31].
All:
Pater noster, qui es in cælis:
sanctificetur nomen tuum;
adveniat regnum tuum;
fiat voluntas tua, sicut in cælo, et in terra.
Panem nostrum cotidianum da nobis hodie;
et dimitte nobis debita nostra,
sicut et nos dimittimus debitoribus nostris;
et ne nos inducas in tentationem;
sed libera nos a malo.
Tui Nati vulnerati,
tam dignati pro me pati,
pœnas mecum divide.
---
[23] Cf, Acts 2:10; 6:9; 13:1.
[24] CHARLES PÉGUY, The Mystery of the Charity of Saint Joan of Arc (1910).
[25] Philippians 3:12.
[26] Romans 10:20.
[27] Cf. Revelation 3:20.
[28] Cf. Mark 15:21.
[29] Cf. Luke 9:23.
[30] Cf. Luke 10:30-37.
[31] Galatians 6:2.
© Copyright 2007 - Libreria Editrice Vaticana