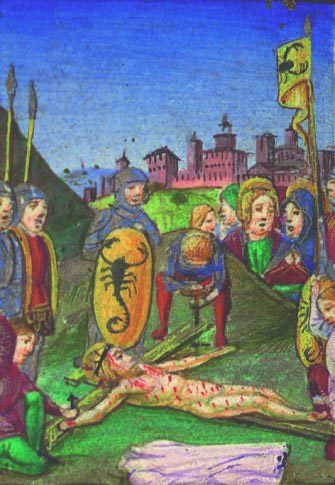 S.P. 42: "Borromeo" Liturgy of the Hours miniated by Cristoforo de Predis, Cent. XV
Ambrosian Library
TENTH STATION
Jesus is crucified
V/. Adoramus te, Christe, et benedicimus tibi.
R/. Quia per sanctam crucem tuam redemisti mundum.
From the Gospel according to Luke. 23:33-38
And when they came to the place which is called The Skull, there they crucified him, and the criminals, one on the right and one on the left. And Jesus said, "Father, forgive them; for they know not what they do." And they cast lots to divide his garments. And the people stood by, watching; but the rulers scoffed at him, saying, "He saved others; let him save himself, if he is the Christ of God, his Chosen One!" The soldiers also mocked him, coming up and offering him vinegar, and saying, "If you are the King of the Jews, save yourself!" There was also an inscription over him, "This is the King ofthe Jews."
MEDITATION
It was merely a rocky spur, called Golgotha in Aramaic and, in Latin, Calvary, "the Skull", perhaps because of its physical appearance. On that peak rise three crosses, the crosses of men sentenced to death, two "criminals", probably anti-Roman revolutionaries, and Jesus. The last hours of Christ's earthly life begin, hours marked by the rending of his flesh, the dislocation of his bones, progressive asphyxia, interior desolation. These are hours that demonstrate the complete solidarity of the Son of God with human beings who suffer and slowly die.
A poet[33] once said: "The thief on the left and the thief on the right / felt only the nails driven into their hands. / But Christ felt the pain offered for salvation, / his side torn open, his heart run through. / It is his heart that burned. / His heart consumed by love." Truly, all around that cross there seem to echo the words of Isaiah: "He was wounded for our transgressions, he was bruised for our iniquities; upon him was the chastisement that made us whole, and with his stripes we are healed. He makes himself an offering for sin"[34]. The outstretched arms of that mangled body want to draw to themselves the entire horizon, embracing humanity, "as a hen gathers her brood under her wings"[35]. For this was his mission: "When I am lifted up from the earth, I will draw all men to myself"[36].
* * *
Beneath that dying body files the crowd, anxious to "view" a ghastly spectacle. It is a scene of superficiality, crass curiosity, thrill-seeking. A picture in which we can also see a society like our own, which looks for stimulation and excess as if they were a kind of drug capable of arousing a sluggish soul, an unfeeling heart, a darkened mind.
Beneath that cross there is also cold hard cruelty, that of the leaders and the soldiers who in their ruthlessness are even capable of profaning suffering and death by their mockery: "If you are the King of the Jews, save yourself!" They are unaware that their words of sarcasm and the official title above the cross – "This is the King of the Jews" – are full of truth. Certainly, Jesus does not come down from the cross in a sudden dramatic turnabout: he does not desire servile obedience based on miracles, but a faith that is free, a love that is authentic. And yet, in his abject humiliation and in the very powerlessness of his death, he opens the door to glory and life, and reveals himself as the true Lord and King of history and of the world.
All:
Pater noster, qui es in cælis:
sanctificetur nomen tuum;
adveniat regnum tuum;
fiat voluntas tua, sicut in cælo, et in terra.
Panem nostrum cotidianum da nobis hodie;
et dimitte nobis debita nostra,
sicut et nos dimittimus debitoribus nostris;
et ne nos inducas in tentationem;
sed libera nos a malo.
Fac ut ardeat cor meum
in amando Christum Deum,
ut sibi complaceam.
---
[33] CHARLES PÉGUY, The Mystery of the Charity of Saint Joan of Arc (1910).
[34] Isaiah 53:5, 10.
[35] Luke 13:34.
[36] John 12:32.
© Copyright 2007 - Libreria Editrice Vaticana