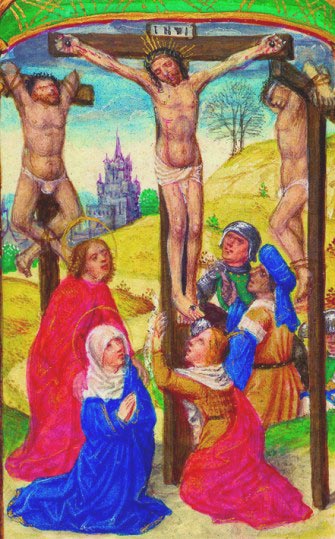 S.P. II, 189: Liturgy of the Hours of French German countries, first half of 15th Cent.
Ambrosian Library

ELEVENTH STATION
Jesus promises his Kingdom to the good thief


V/. Adoramus te, Christe, et benedicimus tibi.
R/. Quia per sanctam crucem tuam redemisti mundum.

From the Gospel according to Luke. 23:39-43

One of the criminals who were hanged railed at him, saying, "Are you not the Christ? Save yourself and us!" But the other rebuked him, saying, "Do you not fear God, since you are under the same sentence of condemnation? And we indeed justly; for we are receiving the due reward of our deeds; but this man has done nothing wrong." And he said, "Jesus, remember me when you come into your kingdom." And he said to him, "Truly, I say to you, today you will be with me in Paradise."

MEDITATION

The minutes pass, as the crucifed Jesus approaches his death; his life and his strength are slowly ebbing away. And yet he still has the strength to make a final gesture of love to one of the two men condemned to death who are beside him at that tragic moment, when the sun is still high in the heavens. Between Christ and that man a brief dialogue takes place, consisting of two essential phrases.

First, there is the plea of the criminal, whom tradition calls the "good thief", who is converted at the final hour of his life: "Jesus, remember me when you enter into your kingdom!" It is almost as if he was reciting his personal version of the "Our Father" with its invocation "Thy Kingdom come!" But he addresses it directly to Jesus, calling him by name, a name of extraordinary significance at that moment: "The Lord saves". Then, an imperative: "Remember me!" In the language of the Bible this verb has a particular force which conveys much more than our colourless word "remember". It is word that breathes certainty and confidence, as if to say: "Take care of me, do not abandon me, be like a friend who supports me and defends me!".

* * *

Then there is the reply of Jesus, quick, almost a whisper: "Today you will be with me in Paradise." This word, "Paradise", so rare in the Scriptures as to appear only two other times in the New Testament[37], in its original meaning suggests a lush and fruitful garden. It is a fragrant image of the Kingdom of light and peace that Jesus had proclaimed in his preaching and inaugurated with his miracles and which would shortly appear in its glory at Easter. It is the goal of our toilsome journey through history, it is fullness of life, it is the intimacy of God's embrace. It is the final gift which Christ makes to us, in the sacrifice of his death which opens up to the glory of the resurrection.

On that day of anguish and pain, those two crucified men said nothing else, yet the few words gasped from their parched throats echo even today. They will continue to echo as a sign of hope and salvation for those who have sinned, but have also come to believe and trust, even at life's final frontier.

All:

Pater noster, qui es in cælis:
sanctificetur nomen tuum;
adveniat regnum tuum;
fiat voluntas tua, sicut in cælo, et in terra.
Panem nostrum cotidianum da nobis hodie;
et dimitte nobis debita nostra,
sicut et nos dimittimus debitoribus nostris;
et ne nos inducas in tentationem;
sed libera nos a malo.

Sancta mater, istud agas,
Crucifixi fige plagas
cordi meo valide.
---
[37] Cf. 2 Corinthians 12:4; Revelation 2:7.

© Copyright 2007 - Libreria Editrice Vaticana