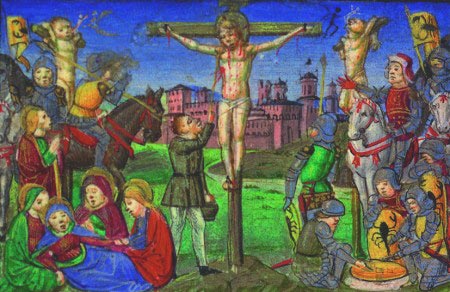 S.P. II, 162: Liturgy of the Hours of French countries, second half of 15th Cent.
Ambrosian Library
THIRTEENTH STATION
Jesus dies on the cross
V/. Adoramus te, Christe, et benedicimus tibi.
R/. Quia per sanctam crucem tuam redemisti mundum.
From the Gospel according to Luke. 23:44-47
It was now about the sixth hour, and there was darkness over the whole land until the ninth hour, while the sun's light failed; and the curtain of the temple was torn in two. Then Jesus, crying with a loud voice, said, "Father, into your hands I commend my spirit!" And having said this, he breathed his last. Now when the centurion saw what had taken place, he praised God, and said, "Certainly this man was innocent!".
MEDITATION
At the beginning of our journey, the veil of night had fallen upon Jerusalem; now it is the darkness of an eclipse that spreads like a shroud over Golgotha. The "power of darkness"[39] seems to loom over the land where God is dying. Yes, the Son of God, to be truly human and our brother, must also drink from the chalice of death, that death which is really the mark of every descendent of Adam. And so Christ "has been made like his brethren in every respect"[40]; he has become fully one of us, standing at our side even in that final struggle between life and death. A struggle perhaps taking place even now for a man or a woman in this city of Rome, and in countless other cities and towns throughout the world.
This is no longer the God of the Greeks and Romans, impassible and remote, like an emperor confined to the gilded skies of his Olympus. In the dying Christ, God is now revealed as passionately in love with his creatures, even to the point of freely imprisoning himself within their twilight of pain and death. The crucifix is thus a universal human sign of the solitude of death, and of injustice and evil. But it is also a universal divine sign of hope for the fulfilment of the expectations of every centurion, that is, of every restless and searching person.
* * *
Indeed, even high on the cross, dying on that gibbet, Jesus, as he breathes his last, does not cease to be the Son of God. At that moment every human experience of suffering and death is embraced by the divine. It is made radiant with eternity, a seed of eternal life is planted within it, a spark of divine light bursts forth.
Death, while losing nothing of its tragedy, now shows an unexpected face: it has the same eyes as the heavenly Father. That is why Jesus at that final hour utters a touching prayer: "Father, into your hands I commend my spirit." Let us make that plea our own, in the prayerful words of a poet:[41] "Father, let your fingers also close my own eyes. / You who are a Father to me, turn to me like a tender Mother, / at the bedside of her gently sleeping child. / Father, come to me and take me into your arms."
All:
Pater noster, qui es in cælis:
sanctificetur nomen tuum;
adveniat regnum tuum;
fiat voluntas tua, sicut in cælo, et in terra.
Panem nostrum cotidianum da nobis hodie;
et dimitte nobis debita nostra,
sicut et nos dimittimus debitoribus nostris;
et ne nos inducas in tentationem;
sed libera nos a malo.
Vidit suum dulcem Natum
morientem desolatum,
cum emisit spiritum.
---
[39] Luke 22:53.
[40] Hebrews 2:17.
[41] MARIE NOËL, Song and Hours (1930).
© Copyright 2007 - Libreria Editrice Vaticana