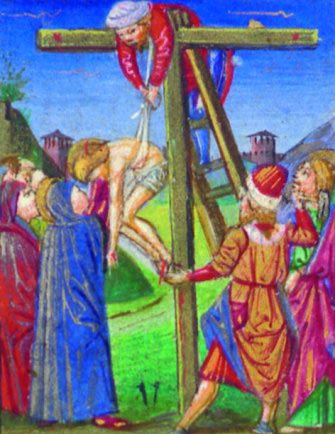 S.P. 42: "Borromeo" Liturgy of the Hours miniated by Cristoforo de Predis, Cent. XV
Ambrosian Library
FOURTEENTH STATION
Jesus is laid in the tomb
V/. Adoramus te, Christe, et benedicimus tibi.
R/. Quia per sanctam crucem tuam redemisti mundum.
From the Gospel according to Luke 23:50-54
Now there was a man named Joseph from the Jewish town of Arimathea. He was a member of the council, a good and righteous man, who had not consented to their purpose and deed, and he was looking for the kingdom of God. This man went to Pilate and asked for the body of Jesus. Then he took it down and wrapped it in a linen shroud, and laid it in a rock-hewn tomb, where no one had ever been laid. It was the day of Preparation, and the sabbath was beginning.
MEDITATION
Wrapped in the winding sheet, the "shroud", the crucified, torn body of Jesus slips slowly from the loving and gentle hands of Joseph of Arimathea into the tomb hewn from the rock. In the hours of silence which follow, Christ will truly be like all men and women who enter into the dark womb of death, the stiffening of the limbs, the end. And yet in that twilight of Good Friday something was already in the air. The Evangelist Luke notes that "the Sabbath was beginning;" lamps were already flickering in the windows of the homes of Jerusalem.
The vigil kept by the Jews in their homes becomes, as it were, a symbol of the hope of those women, of that secret disciple of Jesus, Joseph of Arimathea, and of the other disciples. An expectation that now fills with warmth the heart of every believer who stands before a tomb or feels the cold touch of sickness or death. It is the expection of a new and different dawn, which in just a few hours, once the sabbath has passed, will appear before our eyes, the eyes of Christ's followers.
* * *
When that day breaks, we will be met on the street of the tombs by the angel who will say to us: "Why do you seek the living among the dead? He is not here, but has risen"[42]! And as we return home, the Risen One will draw near and walk with us, coming to stay with us and breaking bread with us at table[43]. Then we too will pray in the faith-filled words of the magnificent Saint Matthew Passion, set to music by one of mankind's greatest musicians:[44]
"Though my heart is tearful because Jesus bids me farewell, yet his testament gives me joy. He bequeaths to me a precious treasure, his flesh and his blood… I will offer you my heart; immerse yourself therein, my Saviour! I will cast myself upon you! If the earth is too small for you, then you alone shall be for me more than earth and heaven!"
All:
Pater noster, qui es in cælis:
sanctificetur nomen tuum;
adveniat regnum tuum;
fiat voluntas tua, sicut in cælo, et in terra.
Panem nostrum cotidianum da nobis hodie;
et dimitte nobis debita nostra,
sicut et nos dimittimus debitoribus nostris;
et ne nos inducas in tentationem;
sed libera nos a malo.
Quando corpus morietur,
fac ut animæ donetur
paradisi gloria.
Amen.
---
[42] Luke 24:5-6.
[43] Luke 24:13-32.
[44] JOHANN SEBASTIAN BACH, St Matthew Passion, BWV 244, Nos. 18-19.
The Holy Father addresses those present.
At the end of his address, the Holy Father imparts the Apostolic Blessing:
BLESSING
V/. Dominus vobiscum.
R/. Et cum spiritu tuo.
V/. Sit nomen Domini benedictum.
R/. Ex hoc nunc et usque in sæculum.
V/. Adiutorium nostrum in nomine Domini.
R/. Qui fecit cælum et terram.
V/. Benedicat vos omnipotens Deus,
Pater, et Filius, et Spiritus Sanctus.
R/. Amen.

© Copyright 2007 - Libreria Editrice Vaticana