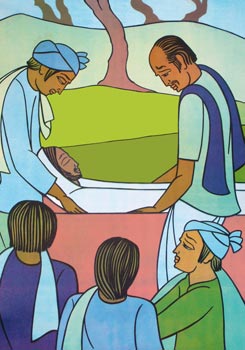 Sister Marie Claire Naidu
(second half of the twentieth century)
Church of the Assumption of the Blessed Virgin Mary
Bangalore – India
FOURTEENTH STATION
Jesus is taken down from the Cross and placed in the tomb
V/. Adoramus te, Christe, et benedicimus tibi.
R/. Quia per sanctam crucem tuam redemisti mundum.
From the Gospel according to Saint Mark. 15:46
Joseph bought a linen shroud, and taking him down, wrapped him in the linen shroud, and laid him in a tomb which had been hewn out of the rock; and he rolled a stone against the door of the tomb.
MEDITATION
Tragedies make us ponder. A tsunami tells us that life is serious. Hiroshima and Nagasaki remain pilgrim places. When death strikes near, another world draws close. We then shed our illusions and have a grasp of the deeper reality. People in ancient India prayed: "Lead me from the unreal to the real, from darkness to light, from death to immortality."[1]
After Jesus left this world, Christians began to look back and interpret his life and mission. They carried his message to the ends of the earth. And this message itself is Jesus Christ, who is "the power of God and the wisdom of God".[2] It says that the reality is Christ [3] and that our ultimate destiny is to be with him.[4]
PRAYER
Lord Jesus, enable us, as we press forward on life's weary way, to have a glimpse of our ultimate destiny. And when at last we cross over, we will know that "death will be no more; mourning and crying and pain will be no more."[5] God will wipe away all tears from our eyes.
It is this Good News that we are eager to announce "in every way",[6] even in places where Christ has not been heard of.[7] For this we work hard.[8] We work "night and day"[9] and wear ourselves out.[10] Lord make us effective carriers of your Good News.
"I know that my Redeemer lives, and at last he will stand upon the earth; and in my flesh I shall see God."[11]
---
[8] Cf. Acts 20:35; Rom 12:8.
All:
Pater noster, qui es in cælis:
sanctificetur nomen tuum;
adveniat regnum tuum;
fiat voluntas tua, sicut in cælo, et in terra.
Panem nostrum cotidianum da nobis hodie;
et dimitte nobis debita nostra,
sicut et nos dimittimus debitoribus nostris;
et ne nos inducas in tentationem;
sed libera nos a malo.
Quando corpus morietur,
fac ut animæ donetur
paradisi gloria. Amen.
ADDRESS OF THE HOLY FATHER
AND APOSTOLIC BLESSING
The Holy Father addresses those present.
At the end of his address, the Holy Father imparts the Apostolic Blessing:
BLESSING
V/. Dominus vobiscum.
R/. Et cum spiritu tuo.
V/. Sit nomen Domini benedictum.
R/. Ex hoc nunc et usque in sæculum.
V/. Adiutorium nostrum in nomine Domini.
R/. Qui fecit cælum et terram.
V/. Benedicat vos omnipotens Deus,
Pater, et Filius, et Spiritus Sanctus.
R/. Amen.

© Copyright 2009 - Libreria Editrice Vaticana