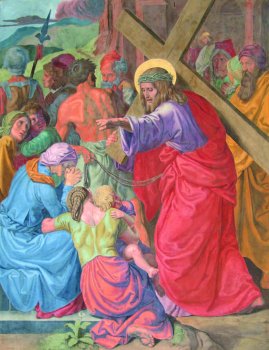 JOSEPH FÜHRICH (1800-1876)
WAY OF THE CROSS 1844-46
CHURCH OF ST JOHN NEPOMUK - VIENNA
EIGHTH STATION
Jesus meets the women of Jerusalem who weep for him

V/. We adore you, O Christ, and we bless you.
R/. Because by your holy cross you have redeemed the world.
From the Gospel according to Luke 23:27–29, 31
And there followed him a great multitude of the people, and of women who bewailed and lamented him. But Jesus turning to them said, "Daughters of Jerusalem, do not weep for me but weep for yourselves and for your children. For behold, the days are coming when they will say, 'Blessed are the barren and the wombs that never bore, and the breasts that never gave suck!'…For if they do this when the wood is green, what will happen when it is dry?"
MEDITATION
It is Jesus who takes pity on the women of Jerusalem, and on all of us. Even as he carries the cross, Jesus remains the man who had compassion on the crowd (cf. Mk 8:2), who broke into tears before the tomb of Lazarus (cf. Jn 11:35), and who proclaimed blessed those who mourn, for they shall be comforted (cf. Mt 5:4).
In this way Jesus shows that he alone truly knows the heart of God the Father and can make it known to us: "No one knows the Father except the Son and any one to whom the Son chooses to reveal him" (Mt 11:27).
From earliest times humanity has asked, often with anguish, how God relates to us. Is it with providential care, sovereign indifference, or even disdain and hatred? No certain answer can be given to this kind of question if we merely rely on the resources of our understanding, our experience, or even our heart.
That is why Jesus – in his life and his teaching, his cross and his resurrection – is by far the greatest event in all human history, the light that illumines our destiny.
All:
Pater noster, qui es in cælis:
sanctificetur nomen tuum;
adveniat regnum tuum;
fiat voluntas tua, sicut in cælo, et in terra.
Panem nostrum cotidianum da nobis hodie;
et dimitte nobis debita nostra,
sicut et nos dimittimus debitoribus nostris;
et ne nos inducas in tentationem;
sed libera nos a malo.
Eia mater, fons amoris,
me sentire vim doloris
fac, ut tecum lugeam.

© Copyright 2010 - Libreria Editrice Vaticana