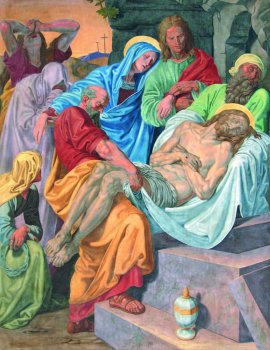 JOSEPH FÜHRICH (1800-1876)
WAY OF THE CROSS 1844-46
CHURCH OF ST JOHN NEPOMUK - VIENNA
FOURTEENTH STATION
Jesus is placed in the tomb
V/. We adore you, O Christ, and we bless you.
R/. Because by your holy cross you have redeemed the world.
From the Gospel according to Matthew 27:57-60
When it was evening, there came a rich man from Arimathea, named Joseph, who also was a disciple of Jesus. He went to Pilate and asked for the body of Jesus. Then Pilate ordered it to be given to him. And Joseph took the body, and wrapped it in a clean linen shroud, and laid it in his own new tomb, which he had hewn in the rock; and he rolled a great stone to the door of the tomb, and departed.
MEDITATION
With the stone that seals the entrance to the tomb, it all appears to be over. Yet could the Author of life remain a prisoner of death? This is why the tomb of Jesus, from that time forward, has not only been the object of the most intense devotion, but has also provoked the deepest divisions of minds and hearts. Herein lies the parting of the ways between those who believe in Christ and those who do not, even if many of them consider him an extraordinary man.
Soon that tomb would remain empty, and it has never been possible to find a convincing explanation for the fact of its being empty other than the one given by the witnesses to Jesus's resurrection from the dead, from Mary Magdalen to Peter and the other Apostles.
Let us halt in prayer before the tomb of Jesus, asking God for the eyes of faith so that we too can become witnesses of his resurrection. Thus may the way of the cross become for us too a wellspring of life.
All:
Pater noster, qui es in cælis:
sanctificetur nomen tuum;
adveniat regnum tuum;
fiat voluntas tua, sicut in cælo, et in terra.
Panem nostrum cotidianum da nobis hodie;
et dimitte nobis debita nostra,
sicut et nos dimittimus debitoribus nostris;
et ne nos inducas in tentationem;
sed libera nos a malo.
Quando corpus morietur,
fac ut animæ donetur
paradisi gloria.
Amen.
ADDRESS OF THE HOLY FATHER
AND APOSTOLIC BLESSING
The Holy Father addresses those present.
At the end of his address, the Holy Father imparts the Apostolic Blessing:
BLESSING
V/. Dominus vobiscum.
R/. Et cum spiritu tuo.
V/. Sit nomen Domini benedictum.
R/. Ex hoc nunc et usque in sæculum.
V/. Adiutorium nostrum in nomine Domini.
R/. Qui fecit cælum et terram.
V/. Benedicat vos omnipotens Deus,
Pater, et Filius, et Spiritus Sanctus.
R/. Amen.
CANTO
R. Crux fidelis, inter omnes arbor una nobilis,
Nulla talem silva profert, flore, fronde, germine!
Dulce lignum dulci clavo dulce pondus sustinens.
1. Pange, lingua, gloriosi prœlium certaminis,
Et super Crucis trophæo dic triumphum nobilem,
Qualiter Redemptor orbis immolatus vicerit. R.
2. De parentis protoplasti fraude factor condolens,
Quando pomi noxialis morte morsu corruit,
Ipse lignum tunc notavit, damna ligni ut solveret. R.

© Copyright 2010 - Libreria Editrice Vaticana