OFFICE OF PAPAL CHARITIES
Vatican City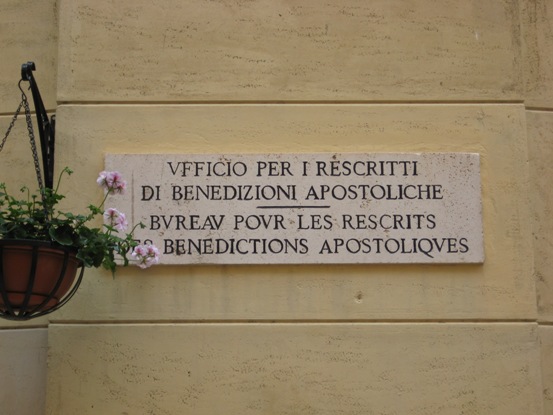 Information about Applying for Papal Blessing Parchments
1. Directly from the Office in Vatican City
The Office of Papal Charities within Vatican City can be visited by entering the Saint Ann Gate (located to the right of the colonnade of Saint Peter's Square) during office hours: 9:00 to 12:30 noon, Monday through Saturday.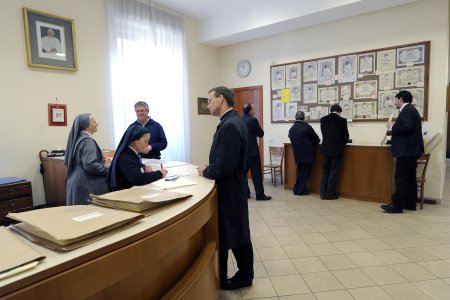 2. By letter or fax
Requests for Papal Blessings on parchment can be sent to the Elemosineria Apostolica - Office of Papal Charities only by regular post or by fax (but not by e-mail)
The request should include:
- the name, surname and address of the person making the request;
- the name and surname of the person(s) for whom the blessing is being requested;
- the reason or occasion prompting the request;
- the date, the name of the Church and the address are required when the blessing is requested for the celebration of a sacrament, a religious profession or an anniversary;
- the address to which the parchment is to be mailed together with the payment (for the cost of preparing and mailing the parchment in a tube or stiff envelope);
- for some specific occasions (nr. 3.), a nihil obstat is required from the parish priest or other ecclesiastical authority, duly signed and sealed either at the bottom of the letter of request or in the box of the module which can be downloaded below; the nihil obstat is a written declaration that the persons receiving the papal blessing are practicing Catholics.
The offering should be sent, only upon receiving the parchment, in Dollars or Euros using Bank Trasfer with the bank details included in the blessing set or by Euro check to the order: Elemosineria Apostolica – Cittą del Vaticano. The parchment, including postage, costs about €25/40 by priority mail or €30/45 by express courier, according to the formats offered by the office for the particular occasion.
The time required for receiving the parchment is approximately one month from the date when the request is received.
Requests made by telephone are not admitted.
3. Circumstances for which parchment papal blessings are granted
The Apostolic Blessing is granted for the following occasions:
1. Baptism, First Communion, Confirmation
2. Marriage
3. Priestly Ordination
4. Religious Profession
5. Secular Consecration
6. Ordinations of Permanent Deacons
7. Marriage Anniversaries (10, 25, 40, 50 , 60 years)*, Priestly Ordination, Religious Profession
8. Birthdays (18, 50, 60, 70, 80, 90, 100)*
9. Catholic individuals or families (with name and surname of the spouses united in a religious marriage).
The asterisk (*) indicates the need for the nihil obstat or approval of ecclesiastical authority.
Requests for papal blessings for other occasions will not be accepted.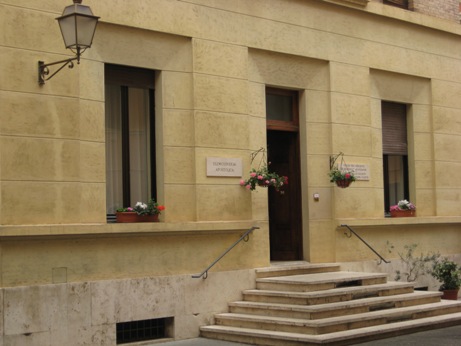 Postal Address:
Elemosineria Apostolica
Parchment Office
00120 Vatican City
Telephone:
(+39) 06.69873279 - (+39) 06.69871100
(office hours: 8:30 a.m. – 1:30 p.m.
[UTC+1 : CET - Central European Time])
Telefax:
(+39) 06.69883132
(24 hours)