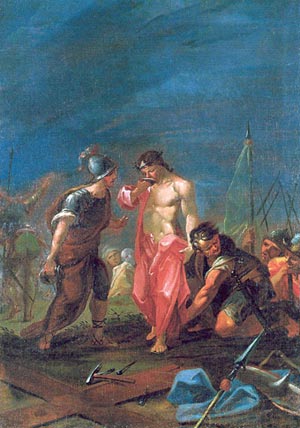 Via Crucis, Scuola Veneta - Sec. XVIII
Cattedrale - Padova
TENTH STATION
Jesus is stripped of his garments
V/. Adoramus te, Christe, et benedicimus tibi.
R/. Quia per sanctam crucem tuam redemisti mundum.
From the Gospel according to Matthew. 27:33-36
And when they came to a place called Golgotha (which means the place of a skull), they offered him wine to drink, mingled with gall, but when he tasted it, he would not drink it. And when they had crucified him, they divided his garments among them by casting lots; then they sat down and kept watch over him there.

MEDITATION
Jesus is stripped of his garments. Clothing gives a man his social position; it gives him his place in society, it makes him someone. His public stripping means that Jesus is no longer anything at all, he is simply an outcast, despised by all alike. The moment of the stripping reminds us of the expulsion from Paradise: God's splendour has fallen away from man, who now stands naked and exposed, unclad and ashamed. And so Jesus once more takes on the condition of fallen man. Stripped of his garments, he reminds us that we have all lost the "first garment" that is God's splendour. At the foot of the Cross, the soldiers draw lots to divide his paltry possessions, his clothes. The Evangelists describe the scene with words drawn from Psalm 22:19; by doing so they tell us the same thing that Jesus would tell his disciples on the road to Emmaus: that everything takes place "according to the Scriptures". Nothing is mere coincidence; everything that happens is contained in the Word of God and sustained by his divine plan. The Lord passes through all the stages and steps of man's fall from grace, yet each of these steps, for all its bitterness, becomes a step towards our redemption: this is how he carries home the lost sheep. Let us not forget that John says that lots were drawn for Jesus's tunic, "woven without seam from top to bottom" (Jn 19:23). We may consider this as a reference to the High Priest's robe, which was "woven from a single thread", without stitching (Fl. Josephus, a III, 161). For he, the Crucified One, is the true High Priest.

PRAYER
Lord Jesus, you were stripped of your garments, exposed to shame, cast out of society. You took upon yourself the shame of Adam, and you healed it. You also take upon yourself the sufferings and the needs of the poor, the outcasts of our world. And in this very way you fulfil the words of the prophets. This is how you bring meaning into apparent meaninglessness. This is how you make us realize that your Father holds you, us, and the whole world in his hands. Give us a profound respect for man at every stage of his existence, and in all the situations in which we encounter him. Clothe us in the light of your grace.
All:
Pater noster, qui es in cælis:
sanctificetur nomen tuum;
adveniat regnum tuum;
fiat voluntas tua, sicut in cælo, et in terra.
Panem nostrum cotidianum da nobis hodie;
et dimitte nobis debita nostra,
sicut et nos dimittimus debitoribus nostris;
et ne nos inducas in tentationem;
sed libera nos a malo.
Fac ut ardeat cor meum
in amando Christum Deum,
ut sibi complaceam.
© Copyright 2005 - Libreria Editrice Vaticana