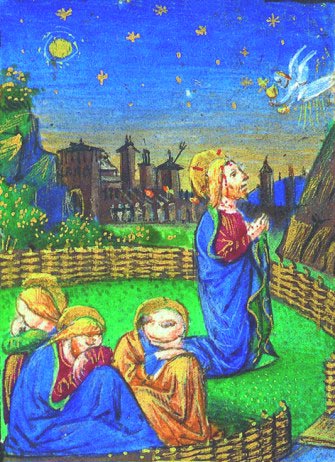 S.P. 42: "Borromeo" Liturgy of the Hours miniated by Cristoforo de Predis, Cent. XV
Ambrosian Library
FIRST STATION
Jesus in the Garden of Olives


V/. Adoramus te, Christe, et benedicimus tibi.
R/. Quia per sanctam crucem tuam redemisti mundum.
From the Gospel according to Luke. 22:39-46
Jesus came out, and went, as was his custom, to the Mount of Olives; and the disciples followed him. And when he came to the place, he said to them, "Pray that you may not enter into temptation." And he withdrew from them about a stone's throw, and knelt down and prayed, "Father, if you are willing, remove this cup from me; nevertheless not my will but yours be done." And when he rose from prayer, he came to the disciples and found them sleeping for sorrow, and he said to them, "Why do you sleep? Rise and pray that you may not enter into temptation."
MEDITATION
When the veil of darkness descends upon Jerusalem, the olives of Gethsemane even today seem to bring us back, with the rustling of their leaves, to that night of suffering and prayer that Jesus experienced. He stands out, alone, at centre stage, kneeling on the soil of that garden. Like every person facing death, Christ too is filled with anguish; indeed, the original word used by the Evangelist Luke is "agonia", struggle. Jesus' prayer is dramatic, tense as if in combat, and the sweat streaked with blood running down his face is evidence of a harsh, bitter torment.
He cries out to heaven, to that Father who seems mysteriously silent: "Father, if you are willing, remove this cup from me", the chalice of suffering and death. One dark night, on the banks of a tributary of the Jordan, one of the patriarchs of Israel, Jacob, had also encountered God as someone mysterious, and "wrestled with him until the breaking of the day"[2]. Praying at times of trial is an experience which disturbs the body and soul alike, and Jesus, in the darkness of that evening, "offered up prayers and supplications, with loud cries and tears, to him who was able to save him from death"[3].
* * *
In the Christ of Gethsemane, struggling and filled with anguish, we see ourselves reflected, whenever we pass through the night of searing pain, of separation from friends, of God's silence. In this sense, it has been said that Jesus "will be in agony until the end of the world: we cannot sleep until that moment, for he seeks companionship and comfort"[4], like everyone else who suffers on this earth. In him too, we see our own face, when it is wet with tears and racked by distress.
But Jesus' struggle does not yield to the temptation of despair and surrender, but to a profession of confident trust in the Father and his mysterious plan. In that bitter hour it is the words of the "Our Father" that he holds out to us: "Pray that you may not enter into temptation… Not my will, but yours be done!". And then an angel of consolation, strength and comfort appears, who helps Jesus, and us, to persevere to the end of the journey.

All:
Pater noster, qui es in cælis:
sanctificetur nomen tuum;
adveniat regnum tuum;
fiat voluntas tua, sicut in cælo, et in terra.
Panem nostrum cotidianum da nobis hodie;
et dimitte nobis debita nostra,
sicut et nos dimittimus debitoribus nostris;
et ne nos inducas in tentationem;
sed libera nos a malo.
Stabat mater dolorosa,
iuxta crucem lacrimosa,
dum pendebat Filius.
---
[2] Cf. Genesis 32:23-32.

[3] Cf. Hebrews 5:7.

[4] Blaise Pascal, Pensées, No. 555, ed. Brunswieg.

© Copyright 2007 - Libreria Editrice Vaticana