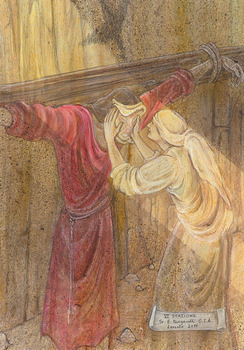 SR. ELENA MARIA MANGANELLI, O.S.A.
VIA CRUCIS
LECCETO 2011
SIXTH STATION
Veronica wipes the face of Jesus
Jesus is not concerned with appearances. Jesus looks at the heart

V/. We adore you, O Christ, and we bless you.
R/. Because by your holy cross you have redeemed the world.
From the second letter of Saint Paul to the Corinthians 4:6
God, who said, "Let light shine out of darkness," has shone in our hearts to give the light of the knowledge of the glory of God in the face of Christ.
* * *
Along the Way of the Cross popular devotion has depicted a woman's gesture, steeped in gentleness and veneration, a kind of lingering trace of the perfume of Bethany. Veronica wipes the face of Jesus. In that face, marred by suffering, Veronica recognizes the face transfigured by glory; in the features of the suffering Servant she sees the fairest of the sons of men. Seeing Jesus in this way leads to her generous gesture of kindness and in return she receives the imprint of the Holy Face! Veronica teaches us the secret of that feminine gaze that invites encounter and offers help: it sees persons with the heart![1]
Jesus most humble,
our eyes are incapable of looking beyond:
beyond poverty, to recognize your presence,
beyond the shadow of sin,
to glimpse the sun of your mercy,
beyond the blemishes of the Church,
to see the face of a Mother.
Come, Spirit of Truth,
pour into our eyes "the cleansing balm of faith"[2]
that they may not be distracted by outward appearances,
but come to know the allure of things unseen.
All:
Pater noster, qui es in caelis:
sanctificetur nomen tuum;
adveniat regnum tuum;
fiat voluntas tua, sicut in caelo, et in terra.
Panem nostrum cotidianum da nobis hodie;
et dimitte nobis debita nostra,
sicut et nos dimittimus debitoribus nostris;
et ne nos inducas in tentationem;
sed libera nos a malo.
Quis non posset contristari,
piam Matrem contemplari
dolentem cum Filio?
© Copyright 2011 - Libreria Editrice Vaticana