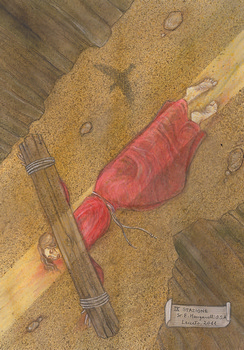 SR. ELENA MARIA MANGANELLI, O.S.A.
VIA CRUCIS
LECCETO 2011
NINTH STATION
Jesus falls the third time
By his own weakness, Jesus strengthens our infirmity
V/. We adore you, O Christ, and we bless you.
R/. Because by your holy cross you have redeemed the world.
A reading from the Gospel according to Luke 22:28-30a, 31-32
"You are those who have continued with me in my trials; and I assign to you, as my Father assigned to me, a kingdom, that you may eat and drink at my table in my kingdom … Simon, Simon, behold, Satan demanded to have you, that he might sift you like wheat, but I have prayed for you that your faith may not fail; and when you have turned again, strengthen your brethren".
* * *
In his third fall, Jesus expresses the love with which, for our sake, he embraced the burden of suffering, and he renews his call to follow him faithfully to the end. But he also gives us a glimpse of what lies beyond the veil of the promise: "If we endure, we shall also reign with him".[1]
Jesus' falls are part of the mystery of his Incarnation. He sought us out in our weakness, descending into its very depths in order to raise us up to himself. "In himself he showed us the path of humility, to open up for us the path of return".[2] "He taught us patience as the weapon that conquers the world".[3] Now, falling to the ground for the third time, even as he "sympathizes with our weaknesses",[4] he shows us how not to succumb to temptation: we are to persevere, to remain steadfast, in a word, "to remain in him".[5]
Jesus most humble,
amid the trials that sift our faith
we feel alone and forlorn:
we do not yet believe that these, our trials
were once yours
and that you ask us
simply to endure them with you.
Come, Spirit of Truth,
whenever we fall along the way!
Teach us to cling to Jesus' fidelity
and to trust in his prayer for us,
that we may receive that stream of power
which he alone, God-with-us­, is able to give!
All:
Pater noster, qui es in caelis:
sanctificetur nomen tuum;
adveniat regnum tuum;
fiat voluntas tua, sicut in caelo, et in terra.
Panem nostrum cotidianum da nobis hodie;
et dimitte nobis debita nostra,
sicut et nos dimittimus debitoribus nostris;
et ne nos inducas in tentationem;
sed libera nos a malo.
Fac ut ardeat cor meum
in amando Christum Deum,
ut sibi complaceam.
---
© Copyright 2011 - Libreria Editrice Vaticana