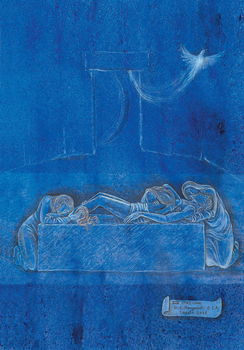 SR. ELENA MARIA MANGANELLI, O.S.A.
VIA CRUCIS
LECCETO 2011
FOURTEENTH STATION
Jesus is placed in the tomb
The land of silence and expection holds Jesus, the seed of new life
V/. We adore you, O Christ, and we bless you.
R/. Because by your holy cross you have redeemed the world.
From the Gospel according to John 19:40-42
They took the body of Jesus, and bound it in linen cloths with the spices, as is the burial custom of the Jews. Now in the place where he was crucified there was a garden, and in the garden there was a new tomb where no one had ever been laid. So because of the Jewish day of Preparation, as the tomb was close at hand, they laid Jesus there.
* * *
A garden, whose colours are a symbol of life, receives the mystery of man, created and redeemed. It was in a garden that God set the man he had created,[1] and thence banished him after the Fall.[2] It was in a garden that the Passion of Jesus began,[3] and now in a garden an empty tomb receives the new Adam as he returns to the earth,[4] the maternal womb which holds the seed that dies to bear much fruit.
This is the hour of faith, which waits silently, and of hope, which already sees on the withered branch a a tiny bud, the promise of salvation and joy.
Now the voice of "God speaks in silent depths of the heart".[5]
All:
Pater noster, qui es in caelis:
sanctificetur nomen tuum;
adveniat regnum tuum;
fiat voluntas tua, sicut in caelo, et in terra.
Panem nostrum cotidianum da nobis hodie;
et dimitte nobis debita nostra,
sicut et nos dimittimus debitoribus nostris;
et ne nos inducas in tentationem;
sed libera nos a malo.
Quando corpus morietur,
fac ut animæ donetur
paradisi gloria.
Amen.

ADDRESS OF THE HOLY FATHER
AND APOSTOLIC BLESSING
The Holy Father addresses those present.
At the end of his address, His Holiness imparts the Apostolic Blessing:
Dominus vobiscum.
Et cum spiritu tuo.
Sit nomen Domini benedictum.
Ex hoc nunc et usque in sæculum.
Adiutorium nostrum in nomine Domini.
Qui fecit cælum et terram.
Benedicat vos omnipotens Deus,
Pater, et Filius, et Spiritus Sanctus.
Amen.
HYMN
R. Crux fidelis, inter omnes arbor una nobilis,
Nulla talem silva profert, flore, fronde, germine!
Dulce lignum dulci clavo dulce pondus sustinens.
1. Pange, lingua, gloriosi prœlium certaminis,
Et super Crucis trophæo dic triumphum nobilem,
Qualiter Redemptor orbis immolatus vicerit. R.
2. De parentis protoplasti fraude factor condolens,
Quando pomi noxialis morte morsu corruit,
Ipse lignum tunc notavit, damna ligni ut solveret. R.
---

© Copyright 2011 - Libreria Editrice Vaticana