Juan Nepomuceno Zegrí y Moreno (1831-1905)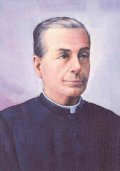 Priest, Founder of the Sisters of Charity of the Blessed Virgin Mary of Mercy.
Juan Nepomuceno Zegrí y Moreno was born on 11 October 1831 in Granada, Spain. His father, Antonio Zegrí Martín, and his mother, Josefa Moreno Escudero, were most vigilant in educating their son and in helping to form his personality according to evangelical values. The young boy had a great love for Jesus and Mary and was particularly sensitive to the needs of the poor.
Binding wounds, healing hearts
As a youth, Juan felt called to serve the Lord in society's poor, and wanted to become a priest. He entered St Dionysius Seminary of Granada, and on 2 June 1855 was ordained in the Cathedral of Granada. He served in the parishes of Huétor Santillán and of San Gabriel de Loja in Granada.
His vocation, as he once proclaimed in a homily, was to be "like a good shepherd, going after the lost sheep; like a doctor, healing sick hearts wounded by faults and binding them with hope; like a father, who visibly provides for all of those who, suffering from abandonment, must drink from the bitter chalice and receive nourishment from the bread of tears".
Fr Zegrí's priestly life was characterized by a profound experience of God and a deep love for Jesus the Redeemer and Mary, Mother and Protectress. His sermons encouraged listeners to live the Christian life radically and responsibly.
He always served with great humility in the positions he was asked to assume as a priest: synodal judge, canon of the cathedral of Malaga, visitor of the religious orders, formator of the seminarians, and preacher of and royal chaplain to Her Majesty Queen Isabel II.
Founder inspired by Mary
It was with a profound interest in resolving social problems and in meeting the needs of the poor and neglected that Fr Zegrí felt called to found a religious congregation that would serve the most needy. On 16 March 1878 in Malaga, under the protection and inspiration of the Blessed Virgin Mary of Mercy, he began the Congregation of the Sisters of Charity of the Blessed Virgin Mary of Mercy.
The Congregation's main charism was to practice all of the spiritual and corporal works of mercy for the benefit of the poor. He asked the Religious to do all "for the good of humanity, in God, for God, towards God". In only a few years, the Congregation was established in many Dioceses throughout Spain, all due to the dynamism of Fr Zegrí's charismatic inspiration: heal wounds, repair evils, comfort sorrows, dry tears, do not, if possible, leave even one person in the world abandoned, afflicted, unprotected, without religious education and assistance.
He firmly believed that "charity is the only answer to all social problems". In this light the key points of the spirituality of the Founder were: redemptive charity; love and configuration with Jesus the Redeemer; love for Mary, Our Lady of Mercy.
Testing and vindication
God permitted Fr Zegrí to be severely tested and misunderstood after he founded the Congregation, and his own Religious "daughters" falsely accused him. With a Pontifical Decree dated 7 July 1888 he was sent away from the Order that he himself had founded.
After years of silent suffering, his innocence was recognized with another Decree dated 15 July 1894. Although he was permitted to re-enter the Congregation, he was not accepted. He voluntarily kept himself at a distance in order to preserve communion with the Church and his "daughters", so that they would not openly disobey Church authority.
On 17 March 1905 in Malaga, Fr Zegrí died just as he had desired: like Jesus, alone and abandoned. He offered himself for the good of humanity and forgave "his own" who had accused him.
After many years, the Congregation once again recognized him as Founder, all due to the fact that there were Sisters who had kept alive his memory and witness of holiness. In 1925 Fr Zegrí was officially declared as Founder of the Sisters of Charity of the Blessed Virgin Mary of Mercy.