PONTIFICAL COUNCIL FOR THE FAMILY
VI WORLD FAMILIES MEETING
MEXICO, 2009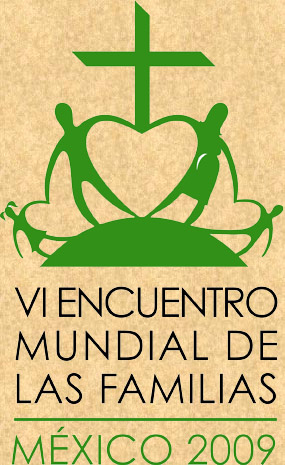 LOGO'S DESCRIPTION
The Logo uses human silhouettes, to represent a family born of love which is symbolized by three hearts and sustained by faith which is represented by a cross on top. The cross also represents the presence of God as the One who holds the family together. Christ gives life, strength and light. The three hearts represent a united family, brought together by love and relationship. The family members´ attitude is joy and trust in the Lord.
These three elements family, hearts and cross stand on an ellipse that represents the world, seen as a global fraternity. It also represents the family joined by faith and love, which are the foundation of an authentic development of all the human and Christian values, that is to say, an integral personal development, which begins with the family. The family is in the world but transcends it because it lives human and Christian values.
The delicately outlined figure of a woman, who is pregnant, points to life, the first fundamental value promoted, defended and cherished by the family.
The green color has two meanings, the cheerful hope in the Family's future and the color of Mexico, where the VI World Families' Meeting will take place. The black and green combination gives the Meeting seriousness, elegance and solemnity as well as a touch of jouthful.